Hangzhou bus arson case a year anniversary: bus security has improved
Categories:

Industry News

Author:

Origin:

Time of issue:

2015-07-07 00:00

Views:
(Summary description)
Hangzhou bus arson case a year anniversary: bus security has improved
(Summary description)
Categories:

Industry News

Author:

Origin:

Time of issue:

2015-07-07 00:00

Views:
At 5:03 on July 5, 2014, a bus No. 7 in downtown Hangzhou burned without any warnings, injuring 30 people, including 20 seriously injured.
Today, the initiator of this tragedy has pleaded guilty to volts and festivals, and the wounded in the incident have gradually recovered from the gloom. However, the diminishing trauma can not allow us to relax the public transport safety precaution of this string.
Over the past year, Hangzhou bus and subway have made many improvements in security, but experts also pointed out: Citizens of public safety awareness and emergency response capabilities to keep up ......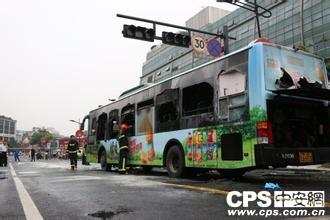 Hangzhou bus made what improvements?
Increase safety hammer, a new car window change, the engine automatically extinguishing
It has been a year since "July 5 arson busted incident." This let many people fear lingering fire, but also to Hangzhou bus security measures made a lot of improvements.
Today, each bus in Hangzhou, are equipped with two bottles of fire extinguishers, engine parts are also equipped with automatic fire extinguishing equipment. New buses this year will also be fully enclosed windows into a push-pull windows.
Emergency escape safety hammer, from the original 4 to 6 (double carriage 8), bus drivers will carry a safety hammer. Automatic window breaking device is a one-time electronic device, usually can not detect, manufacturers can not be assured foolproof, but the sliding window space is not big enough. Only safety hammer the most reliable, as long as the tapping the four corners of the window marked affixed position, a Foot can kick the whole window. "Ma Xiaodong, manager of production safety department of Hangzhou Bus Group, said.
In the bus driver safety awareness and responsibilities, but also made a lot of work. Every bus driver must have safety education before leaving the vehicle. Every month, the convoy should hold emergency meetings to prevent, guard against and prevent riot. Every quarter, the driver is paid to participate in the unified training of the public security department. Every year, drivers must conduct a "safety officer" assessment. The driver also has a subsidy of 300 yuan per month, requiring daily safety inspection and maintenance of equipment. When people in the vehicle compartment endanger public safety, To stop and dispose of.
In addition, the bus station and the car are equipped with video surveillance to facilitate recording, while deter criminals, "by the end of the year can do real-time monitoring, the system will simultaneously access the public security department," Ma Xiaodong said.
Hangzhou subway security is extremely strict please cooperate with you
Emergency response to do pre-exercise
Relative to the bus, the subway can implement a sound security system. March 5 last year, Hangzhou Metro site site for "every package will check," "suspect will check" security system, control tools, flammable and explosive materials are prohibited on the train. After the "July 5 Bus Incident", liquid detectors will be deployed urgently on July 6, and all unidentified liquids will be subject to component inspection. At the same time, liquids such as hand-held beverages should also be opened for a drink. "Like flammable items such as liquor, the regulations can only bring a good seal with 2 pounds on the train, bulk bayberry wine can not bring the car. Also please give cooperation." Submarine Group Office Assistant Wu boat said.
Subway stations and inside the car is also equipped with surveillance video, public security and subway each have a set, to ensure no dead end monitoring. Inside the car, with fire extinguishers, emergency call devices, emergency stop devices and so on. Of course, the use of these devices in non-emergency situations will be investigated for legal responsibility.
In addition, the subway train also made a response to possible unexpected situations exercises.
Expert: Civic safety education can not go through the field
The whole society should establish and improve public travel safety system
After the "July 5 Arson Bus", it was precisely at the suggestion of Professor Wu Weiqiang, a professor at the School of Politics and Public Administration of Zhejiang University of Technology, that a safety hammer and related logos were added to the bus in Hangzhou. On how to enhance the safety factor of public transport, Professor Wu Weiqiang said that we should start from cultivating citizens' public safety awareness and emergency response capability.
Professor Wu Weiqiang said it is absolutely not enough to publicize the security with the banner of "hanging banners and labeling slogans," and whether citizens will be properly handled is the key. He said that in other countries, the whole society fostered safety awareness and ability since the children were enrolled in schools. However, few public safety classes have been set up in domestic schools and even university students have never studied it. This status quo causes citizens to face unexpected situations will not be disposed of, but will not help each other through the storm. "The safety hammers on the Hangzhou bus are equipped, but most of them are sure they will not be used yet. The safety classes that fall should be replaced."
After the "July 5 Incident", Hangzhou bus drivers and subway security officers received safety education and training. However, their role has not fully played, Professor Wu expressed doubts, he believes that the assessment of bus drivers should increase the safety indicators assessment. At the same time, he pointed out that many forms of firefighting in vehicles are mere formalities. Transport operators should be willing to pay for the safety of pilots, security guards and passengers. Do not wait for the tragedy to happen.
Public transport safety and security, Professor Wu Weiqiang gives three recommendations: First, we must cultivate passenger safety awareness and mutual assistance; secondly, the whole society to establish and improve the public safety travel protection system; In addition, the transport operating department of the driver, etc. Safety skills upgrading can not be relaxed.
Scan the QR code to read on your phone